Vernon Stone, interviewed by his son, Darren, on 18th September 2013
Summary below: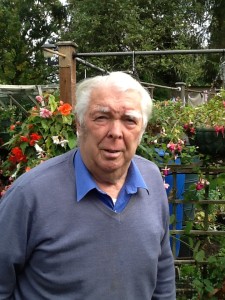 Vernon Alfred Stone, born in Duton Hill 22nd March 1938, so too young for many War Memories.
Remembers the Mosquito crash (in February 1944) and the American Servicemen in the area; friendly, and gave chewing gum to the children.
Memories of school days at Great Easton school; only three Teachers! Mrs Langman was the Head and Miss Scales taught infants; also Mrs Atkinson.
When air raid warnings were on, the infants went into the main school corridor and the older ones into the air raid shelter where the school kitchen is now.
One evacuee, a girl called Barbara, stayed with the Stone family for a short while only.
Duton Hill much smaller then. Two pubs: Rising Sun and Three Horseshoes. Village store owned/run by Herbert Mann. Village also had deliveries from the Co-op and from two bakers (Wilsons from Dunmow and Fosters from Thaxted).
Milk was delivered by Jack Pickford from Little Cambridge, by horse and cart.
Mosquito Crash (in February 1944). Vernon remembers seeing the Mosquito fly over Duton Hill; remembers it being on fire, and went with his father to see the crash site at Tilty. The road to Tilty was full of foam and water; help was provided by the USAAF Great Dunmow crash team.
Also remembers two large bomb craters near Duton Hill bridge. And seeing many aircraft and gliders flying over for airborne landings (D-day, possibly, or Arnhem).
There was Sunday School in Tilty church, run by the Rev. Cuthbertson; attendance encouraged by allowing children to play croquet on the lawn at the Vicarage.
VE day party and big bonfire by the Three Horseshoes; post-war, funfairs and even a circus held in field by Horseshoes.
Vernon's father (Frederick Thomas Stone) worked as a boiler stoker at Dunmow Brewery, and Vernon remembers visiting the brewery to see him. His mother was Agnes Jane Rolph, sister of Great Easton blacksmith John Rolph (in George Clausen's paintings). Vernon remembers visiting the forge and pumping the bellows.