On Christmas Day 1940 the BBC broadcast a radio programme "Christmas Under Fire", which consisted of a series of outside broadcasts from all around a world at war. One of the sections, involving evacuees and 'locals', was broadcast from Tilty Village Hall. A copy of this section – from the BBC's London archive – can be heard by playing the sound file below (more about the recording, together with an interview about the Rev. Hugh Cuthbertson, can be found here).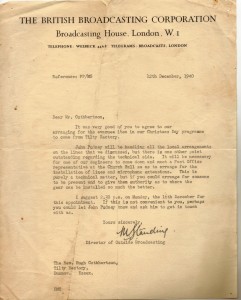 The Rev. Cuthbertson was involved in bringing the BBC to Tilty for an item broadcast from Tilty Village Hall. Local arrangements were handled by the poet John Pudney, who lived at Tilty Hill Farm at the time – instructions were set out in a letter to the Rev. Cuthbertson dated 12th December 1940.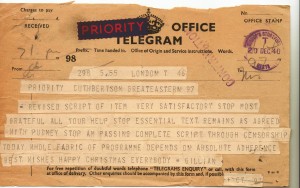 The programme would have finished with a message from the King, and timing was of great importance, as a telegram sent a few days before the broadcast makes this clear; adherence to the schedule is essential.
Last updated 29th December 2019