Alf Wright, local historian and archivist, has contributed an account (see below) about the pillboxes and other civil defence measures constructed in Tilty and the neighbourhood, many of which can still be seen.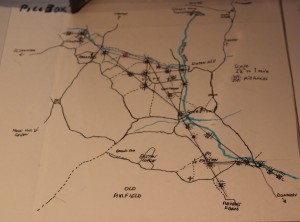 Alf's Report: Having lived in Broxted in the 1950s, as young boys we used to play around the pillboxes which we called dugouts. These were situated either in meadows or near roads between Tilty and Chickney. When we climbed on the tops, which were covered with soil and grass, I would think to myself, 'Why?' – Not knowing it was camouflage against enemy aircraft and ground invasion in the War.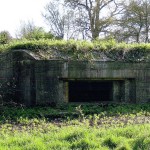 We now move to the year 2010. Sixty years on and living in Great Easton, looking across the fields from my garden I can see three pillboxes running in a line along the River Chelmer towards Little Easton.
They all still have grass growing on top of them; so let's find out more about them.
In May 1940, thinking Hitler was going to invade England, General Sir Edmund Ironside constructed a defence line in Essex known as the G.H.Q Line (General Head Quarters) – a stop line which ran from Pitsea to Saffron Walden, and further on northwards. The line consisted of road blocks using old farm machinery. On the Elsenham to Thaxted railway line, next to the Sibleys to Cutlers Green Halt, some old wagons were used as an anti-tank line, plus knife rests and barbed wire. The pillboxes were built from May to July in 1940.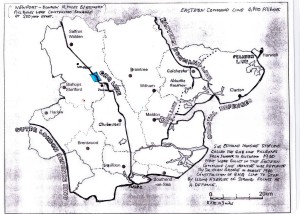 When the threat of invasion was called off, following the success of the Battle of Britain, General Ironside was replaced by General Sir Alan Brooke. Brooke ordered construction of the G.H.Q. Line to cease, as he considered other defence methods – using larger numbers of mobile troops – to be more effective.
In the whole country a total of about 28,000 pillboxes were built, but by the year 2000, only 6,000 are known to have survived – that is, if you can find them!
In the section of the G.H.Q. Line between Newport and Dunmow, some eighty-one assorted pillboxes were constructed, covering likely enemy approaches from the north east. They were spaced out at roughly 300 yards apart, and most were invisible. The most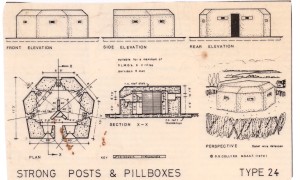 common types are 22-24 and 28. They were built of brick and pre-cast concrete with reinforced rods.
Also along the G.H.Q. Line – near roads crossing rivers and brooks – you will find round concrete pedestal bases with a steel pin on top, which were for fixing a spigot mortar. A spigot mortar was used for firing a 20lb. high explosive mortar bomb, with a range of about 100yds. This was used as an anti-tank weapon and needed a crew of three Home Guards. You will find one at the bottom of Bolford Street in Thaxted near the River Chelmer; one next to Broadwater Brook, Broxted on the B1051 road to Thaxted; and one on each side of the lower bridge road at Tilty and Duton Hill, both within range of the road and bridge.
Most of the pillboxes are now in a state of decay and are overgrown with vegetation and are water logged.
I have walked part of the G.H.Q. Line from Dunmow through Little Easton, Great Easton, Duton Hill, Tilty and Broxted, ending at Chickney Road near Sibleys, Henham – a total of about 10 miles.
The Group has organised several 'Pillbox Walks' led by Alf Wright – information about them can be found in our Newsletters and on this page.
Last updated 15th May 2020