The Rev. Hugh Cuthbertson brought his family to Tilty Vicarage in 1940.
Rev.  Cuthbertson, and his wife Betty, provided a great deal of support and comfort to both local residents and evacuees from London during the war years, and after.  Their daughter, Cecile Down, has contributed photographs and documents from the period, together with biographical information about her parents; their remarkable story is set out below.
Hugh Cuthbertson was born in 1899 in Duxford, Cambridgeshire, where his father was a Congregational Minister.  During his early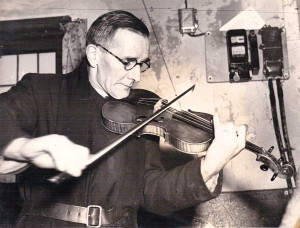 years he developed a great love of the air, and on leaving school he trained as an aircraft draughtsman with Vickers at Hendon; he was the holder of one of the early aviation licences.  During this time he had a cottage at Thaxted, where he met the Rev. Conrad Noel – one of the first Socialist clergymen – whose beliefs made a great impression on him.  He gave up his flying career to train for the ministry.
After his Ordination as a clergyman, Hugh married Elizabeth ('Betty') Burgess, who he had met at Hendon.  They then threw themselves into their work; they were at Custom House (London Docks), and in Liverpool during the General Strike and the much resented 'Means Test', at a time when conditions were appalling for the working people.  In the spring of 1926, Hugh applied for a job to the Bishop of the Falkland Islands, thinking they were in Scotland.  His geography was somewhat adrift, as he discovered when he got the job – as Chaplain to the British Community in Chile, South America.
The Rev. Cuthbertson and his wife spent the next five years in a parish the size of England, with very few roads, and a lot of it only accessible on horseback.  In 1934, due to the ill health of Hugh's father, they returned home to England.  They finished their stay in South America with a hazardous trek from Chile across the Andes, and arrived in Buenos Aires to find excited crowds waiting for them.  Apparently such a journey had never been accompanied by a woman on horseback before; it gained them a first-class cabin home, and a seat at the Captain's Table!
On returning to England Hugh and Betty again threw themselves into social work.  They were attached to a church in St. Pancras, and Hugh was Priest-in-Charge of a number of London hospitals.  They belonged to the Film and Photo League, and made a film of the hunger march from Scotland to London; this was later given to the National Film Archives.
At the outbreak of the Second World War they returned to Essex.  The Rev. Cuthbertson was appointed to the Parish of Tilty, and they took up residence at Tilty Vicarage, with their baby daughter, Cecile).  The greater part of the vicarage was filled with evacuees for most of the war, and the Rev. Cuthbertson had many duties to undertake with regard to his parishioners, in addition to his religious, spiritual and pastoral responsibilities.  He was, for example, involved in organising Allotment Gardens, appointing 'Salvage Stewards' in Tilty and served on the Parish (Invasion) Committee.  Cecile has kindly provided access to a collection of numerous documents and correspondence relating to these wartime tasks and responsibilities, and they provide interesting insights into life at the time.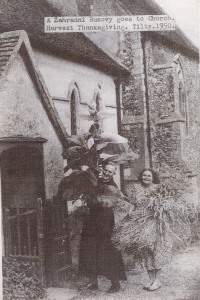 During the war the Rev. Cuthbertson experimented with growing his own tobacco, based on the knowledge he had acquired during his stay in Chile.  After the war this became a local industry.  In 1947 the church tower was in need of repair and, in an inspired effort to raise funds, the Rev. Cuthbertson put a piece in the local church magazine stating that he would share his small knowledge of tobacco cultivation with anybody who would give 5s. (25p.) towards the repair of the tower.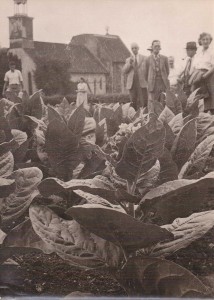 This was spotted by national newspapers, and there were many stories about 'The Baccy Parson'.  Interest grew, and tobacco production in Tilty prospered; the Tilty Tobacco Centre and Co-operative was founded in December 1951.
In 1961 Tilty church was joined with Broxted, and the Rev. Sidney Burling became vicar of the united parishes of Tilty and Broxted.  The Rev. Cuthbertson became vicar of St. Paul's, Dock Street (in the heart of London's dockland) in 1962.  On his retirement, he and his wife returned to Tilty – to the former vicarage – and the family carried on the tobacco business for some years.  Betty Cuthbertson died in January 1975, and Hugh Cuthbertson in 1976, at the age of seventy-seven.