A 'Special Event' was held at The Barn Theatre in Little Easton on Saturday 19th October, to celebrate and share the results of the project.  There was an exhibition featuring artefacts, documents, photographs and stories, which represented some of the experiences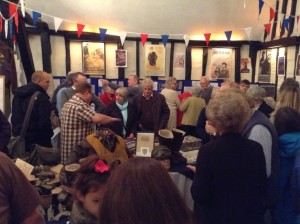 of ordinary people in Tilty and the surrounding villages during the war. There was also a staged re-enactment of a BBC radio programme from Christmas Day 1940, abridged for performance; part of this programme was originally broadcast from Tilty Village Hall.  Everyone was made welcome and The Barn Theatre was soon full; the re-enactment was very professionally executed, and well received. Live music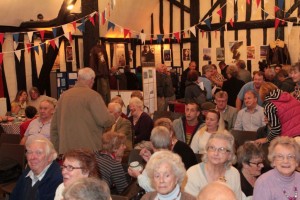 followed, provided by a woodwind quartet, and then 'The Phoenix Ukulele Band', who played songs from the forties for a sing–along. Refreshments were provided, and 'vintage teas' were served to all; there was no charge, but voluntary contributions raised £178 for the Royal British Legion.
There was an extremely good turn-out for the event, and a good mix of age-groups in attendance, from toddlers to octogenarians.  Most of the people who had contributed their stories and memories for the project were able to come along, and it was good to see so many people talking animatedly as they revived memories of times past.  There were visitors from both the local neighbourhood and much further afield; two sisters, who had been evacuated to Tilty as children, came up from London for the afternoon, along with their extended family.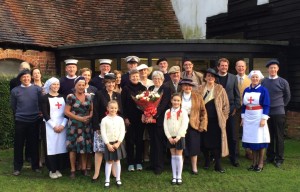 The re-enactment and the live music attracted a range of people along to the event who may not have come just for the exhibition, but who then took the time to look at the displays and engage with the results of the project.  There have been many positive comments about it from those who attended, and it seemed to be a very successful community event.
A small selection of photographs are displayed below; more will follow!