As well as its regular general meetings, the Group organises various events and outings – reports and photographs may be accessed below
27th April 2014 – Official 'Launch' of Interpretation Boards in Tilty Abbey Field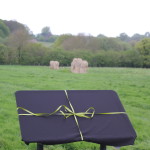 This event marked the completion of several years' work for the conservation and restoration on the remaining sections of the abbey walls. The unveiling of the four interpretation boards, which were funded by Natural England and England Heritage, and designed by Oxford Archaeology East, were witnessed by members of Tilty Archaeology and Local History Group (TALHG), representatives from Oxford Archaeology East and English Heritage, local residents and two of the craftsmen involved in the repair and consolidation of the two sections of standing cloister walls.  The interpretation boards are mainly based on information gathered from a survey and research undertaken in 2010-11. With each panel displaying different aspects of the history, archaeology and environment of the site, and illustrated with reconstructions (by freelance illustrator and designer Jon Cane) helping to bring the abbey back to life.
Click here for more photos
20th July 2014 – Test-pit Dig, Clerk's Cottage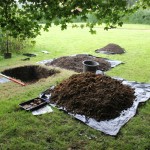 This event was divided into two parts, the first was a workshop led by Rachel Clarke and David Kenny, which was a  presentation about archaeological processes and techniques as well as a Q&A about the dig. The second part was the actual dig at Clerk's Cottage with three test pits being dug. Volunteers could take part in the digging process, the handling of finds and recording of data (which included the types of soil and artefacts found). Although no major finds were found, the day was a resounding success with the new knowledge learnt at the workshop being put into effect, and a better understanding gained of how an archaeological dig  is conducted.
Click here for more photos
26th October 2014 – Pillbox Walk
This was a public event attended by twenty-five people; Tilty Archaeology and Local History Group (TALHG) committee member Alf Wright led the walk, and shared his knowledge about the pillboxes and the local WWII defence system. There were several types of pillboxes, in all conditions, and a couple which people were free to enter.  Although unable to complete the whole route, due to worsening weather conditions, the walk was a great success. All who attended were given a quiz to take part in, (winners announced in January). For further information  on the pillboxes of Tilty please view the pillbox page on the website.
Click here for more photos
[Last Updated 25/5/15]