Alastair Farr gave a presentation to the Group at the AGM in January 2017 on the subject of Sir David Aitchison KCVO,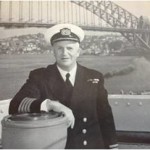 who lived at The Garth in Great Easton from 1936 to 1975.
Captain Aitchison was in charge of the SS Gothic in 1952 during its Royal Tour to the Pacific Dominions with Queen Elizabeth II and the Duke of Edinburgh.
Click here for the presentation.
[ Last updated 23rd January 2017 ]