A Report by Alf and Lesley Wright
Tilty Archaeology & Local History Group arranged a well-attended visit to Hinxton Watermill in April 2017. As well as an interest in local historical buildings, Alf Wright's wife Lesley had a personal connection with Hinxton which made them particularly keen on coming along on the visit.
Family Connections
Lesley's parents, Win and Albert Halls, had lived in Hinxton during the 1940s, and Win worked as a nanny to two young boys living at Lordship Farm, next door to the mill. Win and Albert re-visited Hinxton in 1990, and the photo below shows Lesley and Alf standing in the same spot during their visit in 2017.
The Group were given a very warm welcome by the volunteers who run the mill on Open Days, and Lesley was particularly pleased to meet the miller, Martin Fordham. Martin, now aged 77, was the youngest of the boys her mother had looked after all those years ago. Lesley had taken along a photograph of her mother, Win Halls, from that time, and Martin recognised her instantly.
Hinxton Mill
The present mill dates back to the 17th century, but is built on a very old site, probably the one mentioned in the Domesday Survey (completed in 1086). By 1698 there was one remaining watermill in Hinxton, standing beside Lordship Farm at the bottom of Mill Lane, a location also mentioned in 1781.
Hinxton Watermill, on the River Cam, was used for grinding corn. It closed in 1955 and fell into disrepair, and was restored and reopened in 1987. It is now owned by a trust, CambridgePPF, and is open to visitors on fixed days during the year, and by arrangement for groups at other times. For details see their website: http://www.cambridgeppf.org/places/hinxton-watermill/
Hinxton Church and WWII Roll of Honour
Hinxton church is dedicated to St. Mary and St. John. It is a beautiful building, and well worth visiting.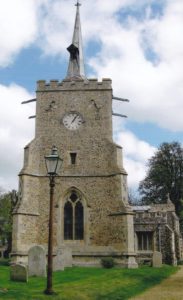 The information leaflet says there is evidence to suggest that there was a church in Hinxton in 1080, and parts of the present building date from about 1150.
The lower part of the tower is early English, about 1200-1260, and the upper part is later, probably added in the 14th century. There are two bells, and the clock dates from 1700, but was renovated in 1809.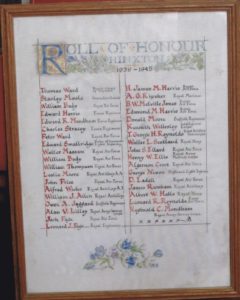 Amongst the many items of historical interest inside the church, there are some relating to the Second World War. Lesley was touched to come across the 'Roll of Honour' on one of the walls of the church, listing all those who served from 1939-1945. Her father's name, Albert W. Halls is there, alongside his best friend's.
Hinxton – Some Other Places
Following the visit to the watermill, a walk around Hinxton and a visit to the church, the Group headed on to the Red Lion for some refreshment. This busy and friendly pub does a very tasty Sunday lunch, which everyone thoroughly enjoyed. Those taking a stroll back past the mill would also have come across the ford.
The trip to Hinxton was interesting, informative and enjoyable – even the weather was good – and also brought to mind some fond family memories for Lesley. A very good day out!
Report by Alf and Lesley Wright – Posted 30th June 2017