The Rev. Hugh Cuthbertson was the Vicar of Tilty from 1940 to 1961. Cecile Down, the Rev. Cuthbertson's daughter, has provided the Group with much information about her father and his work, some of which is published on the website [1].
In October 2019, Tim Gillett – a Senior Broadcast Journalist, from BBC Essex Radio – got in touch with Cec via the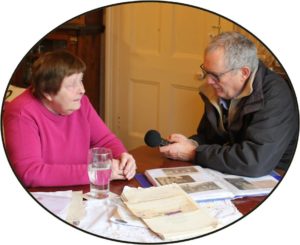 website, and in November he carried out an interview with her which was broadcast on Sunday 22nd December 2019. Several aspects of the Rev. Cuthbertson's life and work are featured in this interview, and Tim was intrigued to hear about his involvement in a wartime BBC radio programme, "Christmas Under Fire". This programme had been broadcast on Christmas Day 1940, and one of the sections – involving evacuees and 'locals' – was from Tilty Village Hall. Tim tracked down a copy of the broadcast in the BBC archive, and has kindly allowed us to share it on the website – the sound file is below:
The interview with Cec has also been made available, and can be played below. It is also available (along with the 1940 broadcast) via BBC Sounds: BBC Essex Radio Sunday 22nd December 2019, morning show 6:00-9:00 a.m. (the interview was broadcast around 7:20 a.m.)
As part of the Heritage Lottery Funded 'All Our Stories' project, the Group performed a re-enactment of this broadcast at an Exhibition at the Barn Theatre in October 2013. Information and photographs about it can be found on the 'Special Event' page.
[1] Items about the Rev. Cuthbertson can be found in these sections – Tilty Vicarage and Christmas Broadcast – or enter 'Cuthbertson' in the Search box (top right).
Posted by Maggie Stevens – 29th December 2019